The Mirror at Grautaneset
50 % of the stay to be paid up front, the rest on arrival.
If you need to cancel a booking, we would like to know this at least 5 days prior to the planned arrival – you will receive a full refund.
If the cancellation comes later than 5 days ahead of the arrival, we will keep the deposit. If you cancel on the same day, the entire amount for the planned stay must be paid in full.
A romantic experience in nature
The Mirror at Grautaneset offers you a nature experience not quite like any other where you can let go and just relax. There are no neighbours, just a beautiful view, nature, and a sunset right out of the fairy tales.
The Mirror has three walls out of four made up of mirror glass windows. It is not possible to look in from the outside, but from the inside you will have a clear view of the nature around the cabin. The Mirror has all amenities: shower, hot tub, toilet, electricity from solar panels, electric stove, barbecue, and everything else you might need for an unforgettable stay.
It is possible to order food and drinks that are in the fridge on arrival. Some choose to bring their own food, which can be bought at the store, located a 15-minute drive from The Mirror.
Upon arrival the hot tub will be filled and heated, and you can enjoy yourselves long into the small hours of the morning.
The bed is made and everything is arranged for an unforgettable experience.
The Mirror is located in a very steep terrain and is deemed unsuitable for small children.
Unfortunately, it is not allowed to bring animals to Grautaneset, but there is a dog boarding house 10 minutes away by car:
VEISET HUNDEPENSJONAT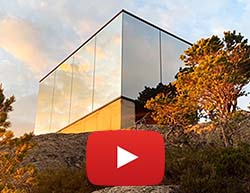 The Mirror at Grautaneset
Price per night (check-in 16.00, check-out 13.00)